Complete Story

07/16/2018
How is the World of Retail Packaging Changing?
by Molly Alton Mullins, RPA Executive Director
Last month the Retail Packaging Association (RPA) surveyed its membership to get a pulse on industry trends and find out more about the value RPA's benefits and services provide to its membership. So what did we learn? A lot has changed in the industry due to e-commerce and consolidation, and RPA is the go-to organization for networking and the opportunity to interact with customers.
Competition is Fierce
RPA is a distributor-based association, with 53 percent of respondents to this survey categorizing themselves as distributors, with 55 percent having been in business 30 years or more. When asked about the biggest concerns facing their business, almost 58 percent stated it was finding new business opportunities and 43 percent stating e-commerce is having a tremendous impact on their business.
Consolidation is King
When asked about the biggest challenges affecting the retail packaging industry, a majority mentioned "consolidation," and others noted the direct result e-commerce and direct-to-consumer sales have had on distribution. One respondent wrote, "The consolidation of the industry [affects many]. Many of the smaller to mid-size companies have been absorbed or purchased by larger companies." The loss of brick and mortar retail is also taking a toll, with one respondent stating: "Less and less retail stores...The mall stores no shoppers there! Everyone's at screen looking double click for shopping. Not good at all."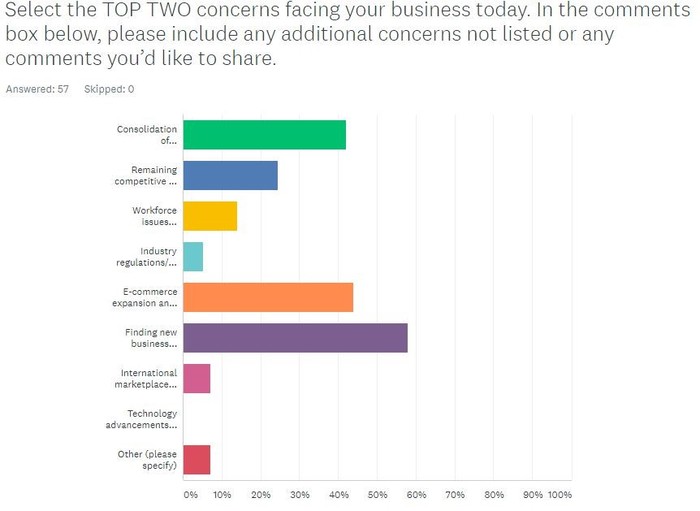 However, the retail packaging industry IS adapting. With the shift to e-commerce from brick and mortar, 37 percent of respondents stated that they are "adapting and diversifying their business model" to ensure they maintain sales.
How Does RPA Help?
RPA is the trade association representing the retail packaging industry and is looking to ensure that it continues to provide value to its varied membership. The majority of respondents (63 percent) have been a member of RPA for more than 20 years and when asked what the biggest value RPA provides, a whopping 71 percent stated, "networking opportunities at the Annual Conference and Showcase." This was followed by "fostering distributor/manufacturer relationships" with 55 percent stating that was a valuable benefit.
What is the Main Value of the Conference?
When asked further about the Annual Conference & Showcase, respondents see the opportunity to "engage with existing customers" as well as the chance to see "new products in the marketplace" as the two top reasons to attend the show. They also like education, with 61 percent saying sessions should cover product trends and industry information and 54 percent stating topics should cover technology trends and e-commerce. Food packaging seems to be an area where RPA could expand its trade show market, and something for the board to consider for 2019 and beyond.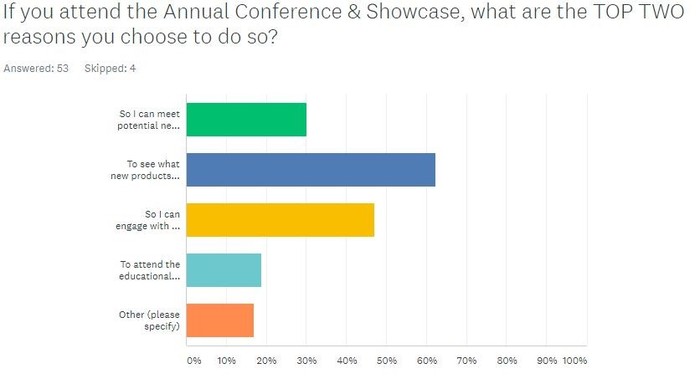 RPA also offers other membership benefits including its Value Partners Program, which only a few members seem to utilize. The YRC discounted freight program is the most popular benefit program with the Hertz rental car program also being mentioned. However, when asked the biggest benefit RPA provides to its members overall, virtually all respondents mentioned some form of networking – the connections they make with current and future customers, as well as others in the industry.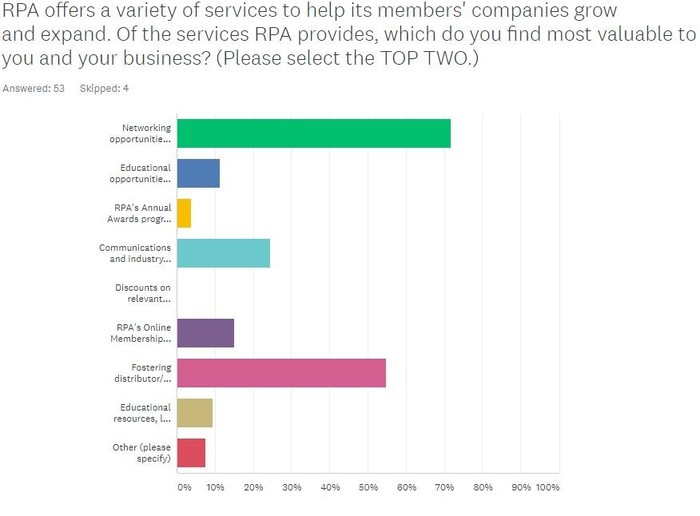 Looking to the future, respondents overall would like to see more buyers attend RPA shows, as well as new and diverse exhibitors on the show floor. RPA's leadership is working on this direct initiative and is looking forward to hosting an exceptional 30th Annual Conference & Showcase, February 25-27, 2018 at the Caribe Royale in Orlando, FL.
You can download the full survey results from RPA's 2018 Membership Survey. Molly Alton Mullins is the Executive Director of RPA. She can be reached at mmullins@retailpackaging.org or 410-940-6360.