Help RPA Members Lead in the Wake of Coronavirus
Each day brings new uncertainties in the wake of coronavirus. As business leaders, we have to manage daily crisis while also leading our companies toward future profitability and success. But how do we do that? RPA is hosting two webinars to help you navigate this process: one focused on leading during times of turbulence and a second to help train your salespeople for selling in tough times.
Webinar 1: Be Focused, Not Frenzied: Navigating Business Through Uncertainty
Presenter: Steve Yastrow
Date: Wednesday, March 25 at 2:00 pm Eastern
Learn More
Webinar 2: How to Sell in Tough Times and Tough Markets
Presenter: Paul Reilly
Date: Wednesday April 1 at 2:00 p.m. Eastern
Learn More
PLEASE NOTE: Zoom limits webinars to 100 attendees. We will record each webinar and post to our website in the event it becomes full.
---

Thank You For Attending
February 26-28, 2020 | Austin, Texas | Renaissance Austin
Thank you to each RPA member who helped make the Annual Conference & Showcase such an amazing event! A big thanks goes out to our sponsors for supporting the industry. We hope you enjoyed your time with the RPA community and came away with valuable insight, new networking and business connections, and a fresh outlook that you can apply to your work in the industry.
---
Best Wishes to Ed Miller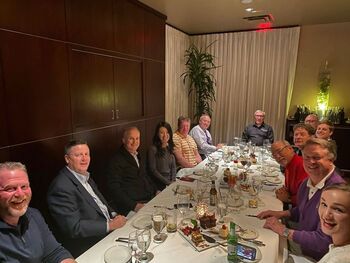 Friends and colleagues planned a surprise dinner for Ed Miller during RPA's 31st Annual Conference & Showcase in Austin. Ed is retiring after 30+ years with Seaman Paper and the RPA wishes him much health and happiness in his new chapter.
---
Quarterly Industry Trends Report: Are You Participating?

Produced in partnership with D3 Advantage, RPA's Industry Trends Report provides a quarterly snapshot of RPA member sales activity, new orders, market trends and business forecasts, as compiled from RPA member input through a simple, quick, completely confidential online survey. Learn more.

Please note that all answers are anonymous, and all information supplied is averaged, with no mention of individual or company names.
If you would like to participle in this survey, please contact RPA research partner Joe Calvello at jcalvello@d3advantage.com or 440.465.2234.