06/08/2018
Waxed Bags Vs. Glassine Bags - What's the Difference?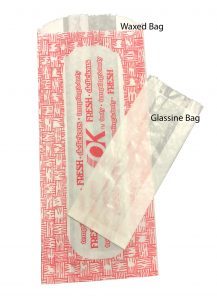 Restaurants, bakeries, and concession stands have several options when it comes to grease-resistant packaging. Most choose glassine or waxed bags because they offer a superior grease barrier and keep foods fresher for longer periods of time.
Customers who use glassine often do so because it provides a smooth, attractive package for their cookies, candies, or handmade soaps. Because it is highly calendared and translucent, glassine provides an upscale finish and allows the product to show through the paper. Glassine looks attractive "as is" or branded with a customer logo, which allows customers to promote their business on their packaging. Glassine bags can be made from only glassine or as 2-ply Gourmet bags, which are offered in a variety of vibrant colors.
Waxed bags, in comparison, are semi-transparent and coated with a paraffin wax. The wax coating makes the bag thicker and grease-proof. Dry wax is applied to the paper bag during manufacturing, so oils and greasy liquids can't seep through. In addition to packaging food items, waxed bags are often used in industrial applications where the product inside the bag needs protection from exterior pollutants.
The differences between glassine and waxed bags include whether the bags can be recycled, their finish, and minimum order quantities. They both have benefits for different types of customers.
Click here for the rest of the article including some considerations when choosing between waxed bags or glassine bags.