2018 Showcase Exhibitors
RPA's Annual Showcase is THE event to attend if you do business in the world of retail packaging. 2018's Showcase will feature more than 50 suppliers and if you are a professional involved in the production and distribution of retail packaging products including boxes, bows, bags, tissue, wrapping paper, tape, and more, this annual event is a MUST ATTEND!
Please note that booths are available to RPA members ONLY and your annual dues are due at time of registration. If you have questions regarding your RPA membership, please contact Amy Luckado at aluckado@retailpackaging.org.
If you have any questions about RPA's Showcase, please contact Molly Alton Mullins at mmullins@retailpackaging.org or call 410-940-6360.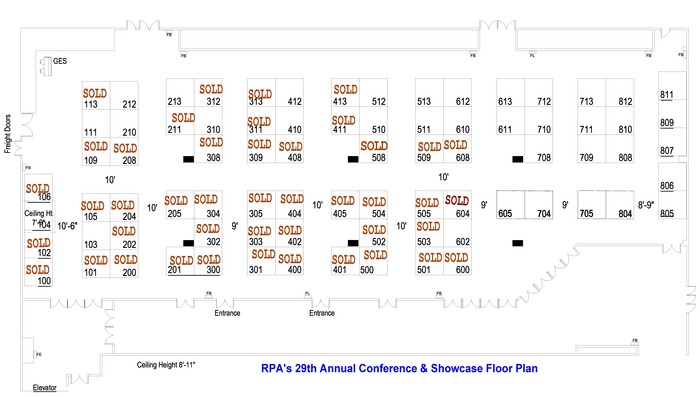 2018 Booth Cost, Specs & Registration:
One Booth

First 10' X 10' Space: $2,200

Two Booths

Two 10' X 10' Spaces: $3,600

Three Booths

Three 10' X 10' Spaces: $5,000

Four Booths

Four 10' X 10' Spaces: $6,400

Each Booth Includes:
6' Draped Table,
Waste Basket,
Chairs,
ID Sign,
And up to three registrations for each booth purchased
Review the Showcase Floor Plan to choose your available table top. Include your top three choices on your Table Top Registration Form. Assignments are made on a first come first serve basis after full payment is received.
Each booth registration includes three attendee registrations (double booth - six attendees, etc.). After completing your Table Top Registration Form, you will be directed to the Attendee Registration Form. Be sure to choose Exhibitor's Prepaid Staff under registration fee for the appropriate number of attendees. Any additional attendees over the three attendees per booth will need to pay the appropriate registration fee.
Thank You 2017 Showcase Exhibitors!
Company
Allpack Canada, A Division Of L'Emballage Tout Inc.
American Label Group, Inc.
Arcvo
Ben Clements and Sons/Clements
Berwick Offray LLC
Bonita Pioneer Packaging Products
Boxit Corporation
Britefoil Tag & Label
Clear View Bag
Command Packaging
Cox Paper & Printing Co., Inc.
Flexo Converters USA Inc.
Flower City Tissue Mills Co., Inc.
Gage & Gage, Inc.
Garlock Printing and Converting Corp.
Global Packaging Group North America
Glopack Inc.
Highpoint Packaging
Hubschercorp
Jillson & Roberts
Kal Pac Corporation
Michigan City Paper Box Co.
Morex Ribbon
NANWANG
Northeastern Bags
Packaging Solutions, Inc.
Pan Pacific Manufacturing Inc.
Papillon Ribbon & Bow
PCI Imports, LLC
Pouch Depot, Inc.
Progress Luv2Pak International Ltd.
PWS ‐ Pacific Western Sales
Reliant Ribbon Bows & Trims
RPW, Division of Uniflex
Seaman Paper Company of Massachusetts
Service First Processing
Shamrock Retail Packaging
SIPAC LLC
Spring‐Fill Industries, Inc.
Sullivan Paper Co., Inc.
The Unger Co.
Trophyllables
Tulsack
Wisconsin Converting, Inc.
YRC Freight