Complete Story

04/10/2020
Industry Pioneer Sam Frank Passes Away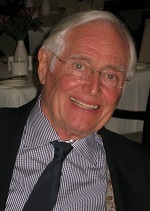 Industry Pioneer Sam Frank Passes Away
Sam Frank, 93, of Bloomfield Hills, Michigan, passed away on April 2, 2020. Sam
founded Packaging Services in 1961 and owned the business until it was acquired by
S. Walter Packaging in December 2017. At that time, there were branches in Los
Angeles, New Orleans, and the headquarters in Madison Heights, MI. Over the
years, they also had sales offices in Chicago, Baltimore, Wichita, Appleton, WI, New
York, and Cleveland.
He was the beloved husband of the late Donna Frank, and the cherished father of
Melissa Lindman (Robert) and Wendy Frank, and the grandfather of four: Ashley,
Jordan , Hailey and Ollie.
Sam was the recipient of the RPA's Lifetime Achievement Award in 2009 and a longtime supporter of the organization. The RPA sends its condolences to Sam's family and all who worked with him at Packaging Services. You can read Sam's obituary here.